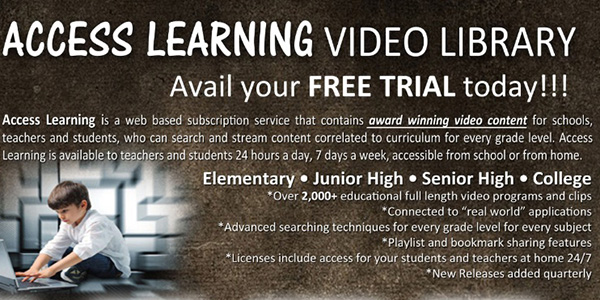 ACCESS LEARNING is a web based subscription service that contains award winning video content for schools, teachers and students, who can search and stream content correlated to curriculum for every grade level. Access Learning is available to teachers and students 24 hours a day, 7 days a week, accessible from school or from home.
Visit Access Learning at this link
You may login in the website with:
Username: UPLB2017
Password: 33demo
Trial Ends: August 2, 2017 (Wednesday)

ebrary offers authoritative ebooks in a wide range of subject areas, along with powerful tools to help you find, use, and manage the information you need. Conduct your research on the computer, or try our mobile apps for Android and for iPad, iPhone, and iPod touch!
Check ProQuest Ebrary at http://site.ebrary.com/lib/uniofphi/home.action
Kindly use the Database Trial Evaluation Form to evaluate the database. Trial access is until May 15, 2014.

IGI Global's InfoSci-Books, InfoSci-Journals, and InfoSci-Videos Databases are now available to University of the Philippines Los Banos, and contains over 3,000 e-books, 158 e-journals and over 50 streaming video lectures in 11 different subject areas including:
Engineering Science and Technology
Environmental Science and Technology
Computer Science and Information Technology
Government Science and Technology
Educational Science and Technology
Business and Management Information Science and Technology
Library Information Science and Technology
Media and Communication Science and Technology
Medical, Healthcare, and Life Science and Technology
Security and Forensic Science and Technology
Social Sciences and Online Behavior
To access the platform and start searching in XML or PDF format, visit igi-global.com/gateway . Download full text of relevant resource now!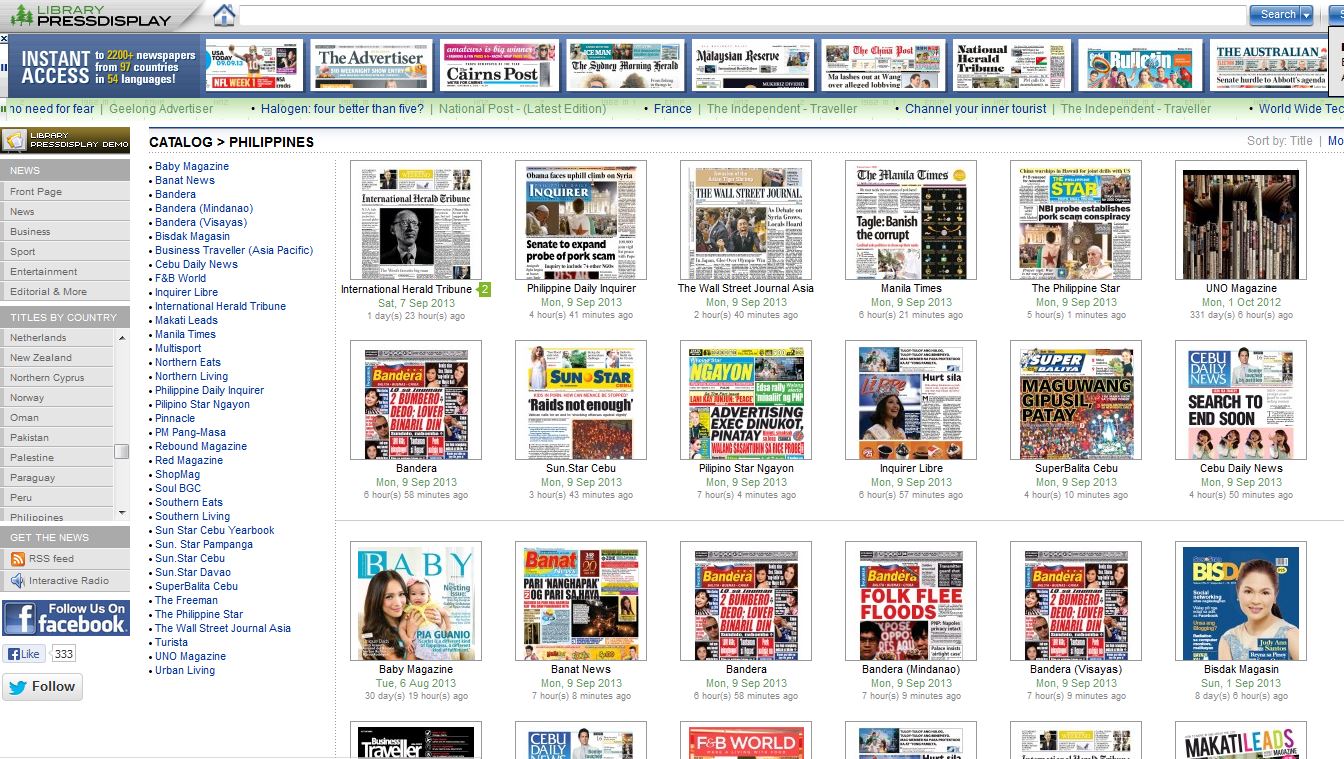 Instant Access to 2000+ newspapers from 100 countries in 60 languages.

SciFinder® is a research discovery application that provides unlimited access to the world's most comprehensive and authoritative source of references, substances and reactions in chemistry and related sciences.
SciFinder offers a one-stop shop experience with flexible search and discover options based on user input and workflow. You can search for substances, reactions, and patent and journal references anytime, anywhere.
Make better, more confident decisions knowing that you have access to the largest collection of substances, reactions, and patent and journal references produced, compiled, and updated daily by CAS scientists around the world.
Save time with an array of powerful tools to search, filter, analyze and plan that allow you to quickly find the most relevant answers to your research questions.
Don't worry about missing vital research – if it's publically disclosed, high quality and from a reliable source, SciFinder has it! See why industry experts rely on SciFinder as their only source for high-quality content combined with ease-of-use features that help complete their research project from start to finish.
Our On-Campus Access trial ends on February 14, 2015 To access SciFinder, please register first via this link
Users need to register within campus IP range and register using their email domain @up.edu.ph only.
After registration, SciFinder can be accessed via scifinder.cas.org

SAGE Journals is an online delivery platform that allows subscribing institutions to access individual SAGE journal titles. The platform hosts prestigious and highly cited SAGE journals and represents one of the largest lists in the social sciences as well as an extensive STM offering.

The UPLB University Library through the College of Veterinary Medicine Library introduces to you our FREE On-Campus ACCESS to the Vetstream Clinical Reference, this is an online veterinary clinical reference sources intended for veterinarians and veterinary staff.
Vetstream content is updated weekly and is presented in text, picture, video and audio format and has been submitted by over 800 of the world's leading veterinary clinicians. All content includes editorial board oversight and peer review, so you can rest assured that the clinical information on Vetstream is dependable and of a high standard.
Key benefits to your professional and clinical practice include;
Evidence-based medicine;
Optimized prescribing; and
Enhanced client interactions and compliance.
So try Vetstream now!